After 25,000 views on the site I thought it would be a good time to bring back one of our posts from last year.
Alot of the younger people that LIKE MIKE might not remember where the "BE LIKE MIKE" slogan came from.
Being "LIKE MIKE" is the inspiration for LIKE MIKE CLOTHING.
This is the history of the famous Gatorade "BE LIKE MIKE" campaign.
Enjoy.
In February 1991, Bill Schmidt, director of sports marketing for Gatorade, and Michael Jordan's agent, David Falk, met in Charlotte, North Carolina, the location of the NBA All-Star Game that year. At a bar, the two started throwing out numbers for securing Jordan's endorsement for Gatorade. Schmidt said that he would be willing to commit to Jordan for five years. But Falk had just finished reading a story on golfer Jack Nicklaus's marketing deals, most of which were 10-year deals. He knew that his client was reaching iconic status like the Golden Bear. When Schmidt left Falk that night, he was well aware of what it would take to get Jordan.
Written on a cocktail napkin was, "10 years, seven figures per year." Falk was prepared for a bidding war. His sources told him that Whitney Houston was making $1.8 million and Elton John was being paid more than $2 million by Coke. He thought his client was on that superstar level, and he knew that Coke had more cash than Quaker Oat's Gatorade brand. In a move that might have helped seal the deal for Gatorade, Jordan prohibited Falk from going back and forth.

"Michael always had a desire to know what people thought he was worth, as opposed to what I was capable of getting for him," Falk said. "And so he wanted to know without a bidding contest."
Falk had already told Schmidt what he expected, so he felt it was only fair to give Chuck Morrison, the head of ethnic marketing for Coca-Cola, the same parameters -- 10 years, seven figures per year. Jordan had just turned 28. It wasn't likely that he would be in the league for 10 more years. The contract would not include a right to terminate if Jordan walked off the basketball court. But that was the price to pay, the risk, for companies that wanted to continue or forge new relationships with Jordan, whose NBA championship the year before, 1991, made him complete.
Coca-Cola crumbled under the pressure. It offered a five- year deal at $750,000 per year. Gatorade stepped up to the table, satisfying Falk's wishes with a ten-year deal worth $13.5 million. Jordan would be paid $1 million a year for seven years, $2 million a year for two years, and $2.5 million for another year. An added bonus in the deal was that Schmidt had promised that Jordan would be the exclusive spokesperson for the brand.

"It was the Secretariat strategy," said Quaker marketer Matt Mannelly, whose brother Pat was devastated to learn of the switch, since he was the chief financial officer at Coca-Cola at the time. "While Coke was going to have a different person all the time, we'd say that we would have only one horse."
Not only did Gatorade have Jordan, but it prevented Coca- Cola from using him for its upstart sports drink POWERade, which was introduced in 1990.



"I think if you had kept Michael with Coca-Cola and the advertising was well done, they would have been able to dramatically penetrate Gatorade's dominance in the marketplace," Falk said.

Falk certainly wasn't complaining. The 10-year deal that Gatorade had agreed to became the model for every company looking for a relationship with Jordan. From then on, Falk insisted that if a company wanted to borrow the tremendous equity that Jordan had in the endorsement world, it had to sign a 10-year deal. Companies like Sara Lee and WorldCom signed on, while others (including McDonald's) decided to go in a different direction. The Gatorade deal was completed in principle in the late spring, but Jordan's contract with Coca-Cola didn't expire until July. In the meantime, Gatorade officials scrambled to make sure that they were ready to unveil a commercial as soon as their contract with Jordan could legally commence.


There was a lot of hesitation at first. Hank Steinbrecher, who had worked on the Gatorade brand from 1985 to 1990 and had recently left the company, called Schmidt when he heard that the company was going to announce a deal with Jordan. He told his former boss that the thought the deal was a mistake.

"I was thinking, 'God, we were growing the brand based on having a pre-eminence on the field and on the court, and now they're going to go the individual athlete route?'" Steinbrecher said.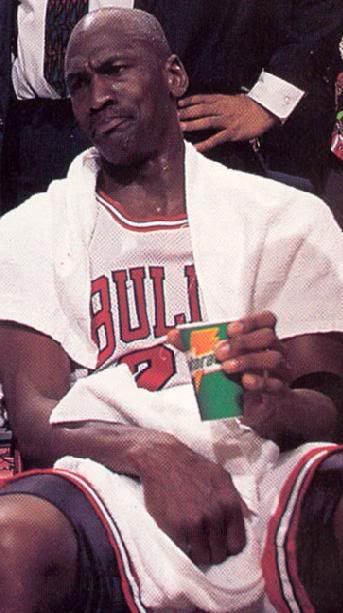 He wasn't the only one who was unsure about the strategy.

"Signing this massive professional athlete and for such a sizable amount of money was kind of like, 'Wait a minute, what are we doing?'" said longtime Gatorade executive Cindy Alston. "I think a lot of people were saying, 'We love Michael Jordan at a Chicago-based company,' but there was a lot of angst about getting it right."


"Gatorade had always stood for being for team, win or lose," Quaker marketer Peggy Dyer said. "Not for an individual star athlete. And that [signing Michael] challenged some of the core values of the brand in terms of what we stand for and does this mean that we support only people who are star athletes, only those who are winners. But we thought Michael was just so extraordinary and so exceptional that he could transcend all of that."

~ Be Like Mike ~


Knowing that this was a big moment, Gatorade's advertising firm at the time, Bayer Bess Vanderwarker, brought back its creative chief, Bernie Pitzel, who had moved to another Chicago advertising firm. He was lured back by the fact that he was going to introduce Jordan and Gatorade to the world.




But when he arrived, he found out that the first commercials had already been approved. One played off the true story of a kid in Yugoslavia who wrote a letter addressed to "Michael Jordan. USA," and it actually arrived in the hands of Gatorade's spokesperson. Another showed highlights of Jordan dominating opponents and doing his signature dunks. The latter spot had already been approved by all the top executives at Quaker.

"I was totally stunned," Pitzel said. "It was just a highlight reel -- a video of him dunking -- and Nike had done that over and over again. I was thinking, 'I came over here to do this and this is what we did?'"Pitzel was given three days to come up with something different, although there were no guarantees that it would beat out the spot that was planned -- the one that he had so despised. That night, he went home frustrated that he couldn't think of anything. He sat down to watch a movie with his younger son. Disney had recently re-released its 1967 classic animated film "The Jungle Book." When he heard "I Wan'na Be Like You," the Monkey Song in the film, it immediately clicked.

"I knew that a million people wanted to be like Mike," Pitzel said.

It was hard to ignore. Number 23 was quickly becoming the most popular jersey among high school and college players. Pitzel had planned to run "The Jungle Book" music over the video, with a final screen saying, "Be Like Mike. Drink Gatorade." But that plan was quickly undone when he found out that Disney officials wanted $350,000 to allow Gatorade to use the song for a five-week commercial run. Plan B was to develop his own lyric, mimicking the sentiments of the idol worship of Jordan, but not infringing on the lyrics owned by Disney.


So Pitzel went to his favorite restaurant, Avanzare (where he did all his creative work), sat down at a table with a pen in hand, and started writing the lyrics to "Be Like Mike" on the paper tablecloth:

Sometimes I dream
That he is me
You've got to see that's how I dream to be
I dream I move, I dream I groove
Like Mike
If I could Be Like Mike
Again I try
Just need to fly
For just one day if I could
Be that way
I dream I move
I dream I groove
Like Mike
If I could Be Like Mike



Four hours later, he was faxing a ripped tablecloth with the lyrics to four different local music companies, hoping that one of them would come up with a catchy tune. Everything, Pitzel said, had to be done in 48 hours.

Ira Antelis and his business partner, Steve Shafer, a local pair of jingle writers, had a chance at the poem.


"I figured I would make more of a song out of it, take the 'Be Like Mike' and really make it the chorus," said Antelis, who was intrigued by the opportunity thanks to his love for the NBA. Antelis hired eight singers to sing the work, and when he was done, he knew that it was a smash and that no other company would beat it. He was right.


That day, with no sleep, Pitzel and Tony Vanderwarker drove the tape of Antelis and Shafer's creation to the American Club in Kohler, Wisconsin, where Gatorade executives were meeting. There, they heard "Be Like Mike" for the first time, from a tape played on a boom box. No words had to be spoken. They knew that they had a winner.

There was initial skepticism about the phrase "Be Like Mike." The fact was that Jordan really wasn't ever called Mike in the public spotlight. Gatorade and Quaker Oats executives worried that Jordan would mind and that it would get the relationship off to a bad start. Falk wasn't initially thrilled, but Jordan had no issues with it.


"The dunking made him a god, and what we were trying to do was humanize him and bring him down to a level to make him more acceptable," Pitzel said. "As long as he allowed us to do it, which he did, it was going to work."

Pitzel then dreamed up the commercial's image. He commissioned a group of kids -- including many children of Quaker executives -- to try to be like Jordan in front of Jordan at a basketball court in Chicago. He also got shots of Jordan goofing around and drinking the product.






To Pitzel's credit, the spot didn't feature great basketball players. It featured kids who weren't stellar at all, but merely dreamed of being like Jordan. In fact, Pitzel's 13-year-old son Nathan is one of the stars of the commercial. He tries to dribble the ball through his legs, but things don't exactly work out.

On August 8, 1991, Quaker officials, 2,000 strong, gathered outside the Quaker tower to see the announcement of their prize brand's new spokesman. Tubs of Gatorade littered the tent over the parking lot, and the spot -- which ended with "Be Like Mike. Drink Gatorade" -- was shown to the crowd.


Original "Be Like Mike" Gatorade commercial.






Here's the second version from 1998

In Gatorade's 26-year history, this was definitely its shining moment. It was arguably Quaker Oat's shining moment as well. After all, only a few months before, Gatorade had, for the first time, passed oatmeal in sales.

One media member, predictably, asked Jordan when he had changed his name to Mike.


"You can call me Mike, Michael or Air. I'll get used to it," Jordan replied.

Within hours, "Be Like Mike" was on television. Quaker officials paid $1 million to run an eight-page ad that turned into a poster of Jordan posing in the same way he did for Nike's "Wings" poster, this time with that familiar waxed Gatorade cup in his hand.




"After leading the league in scoring," the ad began. "After taking the Bulls to the Eastern Conference Championship. And after winning the NBA title, what is there left to reach for?" When the reader turned the page, the green cup was revealed. Quaker officials weren't intending to copy the Nike black-and-white poster, but Nike still threatened to sue. Nothing materialized.

The next week, "Be Like Mike" was running in movie theatres.


"I say that when we signed Michael, Michael was bigger than the brand," said Tom Fox, who began his work with Quaker in 1985. "I think we knew that we had a product that worked, and we saw we were on the cusp, from a marketing perspective, of becoming a product that was more mainstream. That instead of people looking at us as 'Oh, that's what serious athletes drink,' we thought we could create that linkage with, "Hey, I'm hot, I'm sweaty, that's what I should be drinking."

The advertisement was a huge hit, but Quaker Oats took it a step further. The company made cassettes of four versions of "Be Like Mike" and passed them out to radio stations. Three months after the commercial was first aired, approximately 100,000 copies were available to the public for $4.95 each, with proceeds going to the Michael Jordan Foundation.


Opposing NBA teams got their hands on the cassette, and the song was used when the Bulls came to town, not shying away from the fact that the arena was often sold out because of the visitor. For Gatorade, it was free commercial after free commercial.

"If we had used the music from "The Jungle Book," the advertisement would have been forgotten," Antelis said. "Instead, we generated a piece of music that we could own that the world could identify with Gatorade."


Anchors on ESPN's SportsCenter all of a sudden started to occasionally refer to Jordan as "Mike," a moment that Quaker executive Matt Mannelly says was evidence that "we had hit a home run."








"When we signed Jordan, beyond the court he was pretty much 100 percent associated with Nike," Mannelly said. "But after "Be Like Mike," Gatorade was all of a sudden part of the equation."

Perhaps greater evidence of the power of the spot could be found on the streets of America, where kids across the nation almost immediately echoed the sentiments of the commercial; they too wanted to "Be Like Mike."


"I had a kid at a Cubs game wanting my autograph because he was singing it behind me and my kids told him that I had written it," Pitzel said. "It became part of pop culture, and as an ad guy, that's basically what you are trying to do with everything."




Darren Rovell










Bonus Video:



Mike vs. Mike.