On September 9, 1994, Michael Jordan took part in the last basketball game ever played in the old Chicago Stadium, the Scottie Pippen All-Star Classic game, saying goodbye to the home of the Chicago Bulls for the past 27 years.




Michael, who was then retired from basketball at the time came back for the final game and scored 52 points. At the end of the game Mike got down on his hands and knees and kissed the Bulls logo on the center court floor as he waved goodbye.




But Mike didn't say goodbye to that floor for to long, the center court Bulls logo is the floor of Michael Jordan's trophy room in his home.

Roaming around Ebay the other day I found something I have never seen for sale before, a salesman sample autographed Upper Deck Authenticated Michael Jordan Scottie Pippen Charity Game jersey.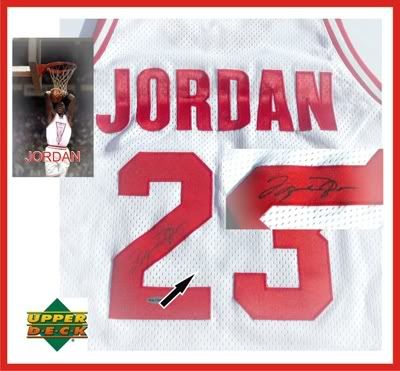 And it can be yours for only $1000!

Wish I had an extra stack to drop that one, I don't think to many people have this jersey.

Here is a six part video of the last game ever played in the Old Chicago Bulls Stadium featuring Michael Jordan, Scottie Pippen, Penny Hardaway, Shaq, John Starks, Mark Jackson, Horace Grant, Gary Payton and many more. Tons of highlights, dunks, alley oop's, no look passes and even footage of Mike guarding Scottie and Scottie guarding Mike. This is classic footage, even great coverage of the post game interviews, all basketball fans should really get a kick out of watching these old videos.

Enjoy!


1

2

3

4

5

6

Thank YouTube member "michalus" for the videos.